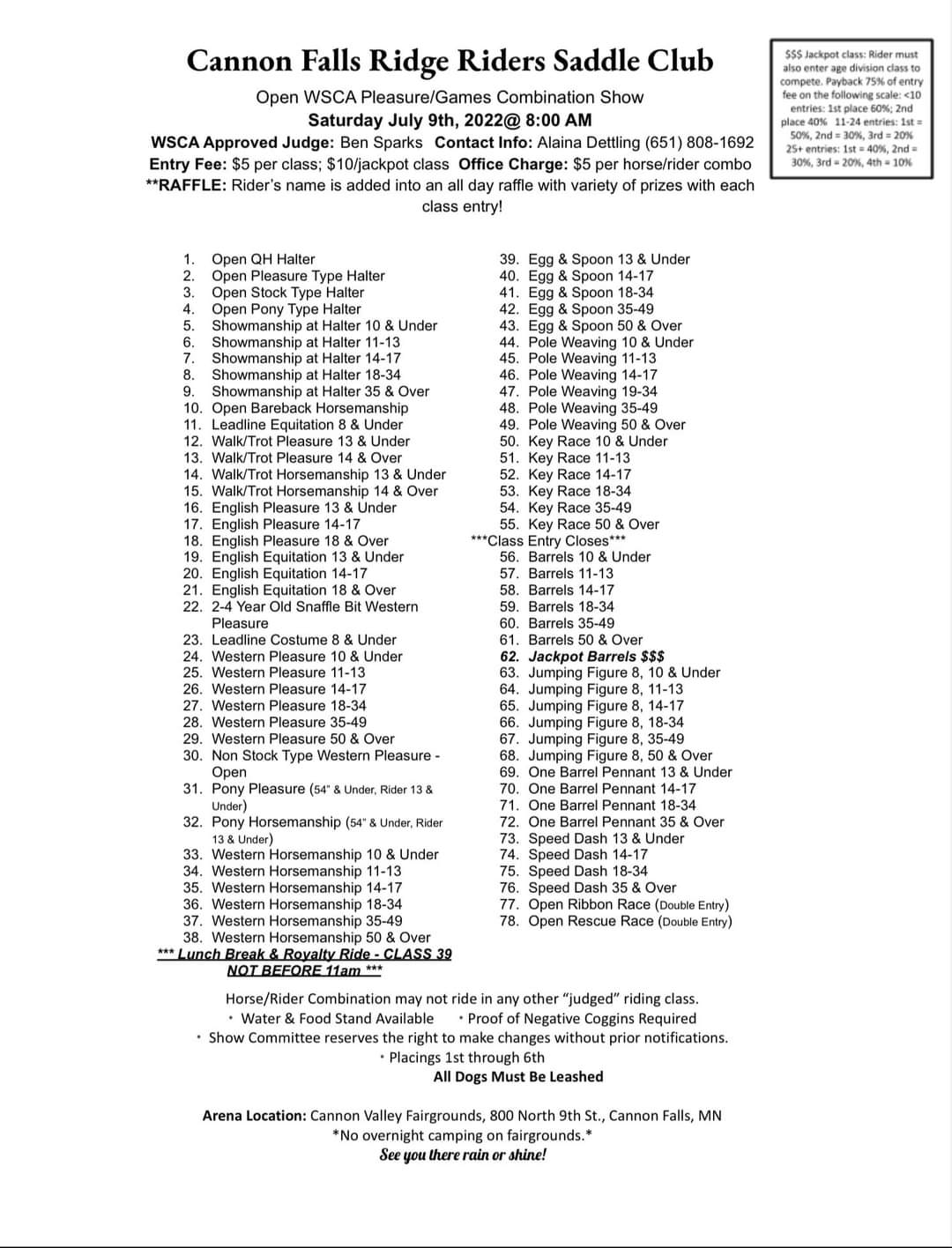 Cannon Falls Ridge Riders Saddle Club
Show Date*:
07/09/2022
Show Type:
HS – Horse Show
Club/Event*:
Cannon Falls Ridge Riders Saddle Club
Location*:
Cannon Valley Fairgrounds – Cannon Falls, MN
Address*:
800 North 9th Street
Cannon Falls, MN 55009
United States
Time*:
08:00 AM
Judge(s) – NOTE: If multiple judges, please enter the names in the 'More Info' section below.*:
Sparks, Ben
WSCA Approved Judge*:
Yes
Contact Name*:
Alaina Dettling
Phone Number*:
651-808-1692
Email*:
CFRRSC@gmail.com
Online Showbill Link:
http://wscaondeck.com/wp-content/uploads/2022/07/FB_IMG_1654577426678.pdf
More Info::
Join us at our annual open WSCA Pleasure/Games Combo Show! Pleasure will start at 8am with games starting no earlier than 11am. Each rider is entered into a raffle with each class entry. Variety of prizes will be given throughout the day. *JACKPOT BARRELS* Cash prizes are percentage-based on entries.
Before showing, please make an account and add your rider(s)/horse(s) at 
champshow.org
. WSCA does not approve shows – WSCA approves Judges.
MN State Law: Negative Coggins within 12 months required to enter show grounds. WI State Law: Current year negative Coggins test required to enter grounds.